Hi Folks--

As we are planning for the future and the chance to once again gather, take a look at our list of great media talent available now for future bookings.

We are very happy to welcome Mark Rolston and Tim Colceri to the list, bring Supernatural and Babylon 5 into our group! :-)

And don't worry! If your dates change, once locked in, we'll work with you if that occurs.

We'll be there to fill that spotlight.

Looking forward to seeing you all again!

Best,
Renee Witterstaetter
Eva Ink Artist Group
Pros & Cons Celebrity Booking
evaink@aol.com
Check the bios of some of our great creators below:


Mark Rolston

-- Supernatural, Aliens, Star Trek
Mark Rolston has created such iconic roles as : Pvt. Drake in 'Aliens', Bogs Diamond in 'The Shawshank Redemption', the original Alistar in the mega hit series 'Supernatural', and recently as Clive Davis in the Lifetime Feature 'Whitney' directed by the incomparable Angela Bassett, and as Admiral Ernest King in the feature 'Midway' directed by Roland Emmerich.

You will also know him as Walter Pierce in 'Star Trek: The Next Generation' . He later appeared as Kuroda and later Magh in 'Star Trek: Enterprise.'

Marks' recent work creating characters for motion capture video games includes titles such as: Halo 4 – Capt. Del Rio, 'Spiderman' – Norman Osborn, and will be starring in a follow up game later this year.

Mark also has numerous credits in the Voice Over arena, performing as Lex Luthor on the 'Young Justice' series, and as Commander Kolivan on the hit series 'Voltron'.
Cynthia Rothrock-

- Queen of Martial Arts Movies!

Actress and Martial Arts Legend Cynthia Rothrock has agreed to make a few key convention appearances in 2020.
A Black Belt in numerous disciplines, Rothrock has made over 43 action films, including "China O'Brien (1 and 2)," "Yes, Madam," "Righting Wrongs," "No Retreat, No Surrender," "Martial Law (1 and 2)," "The Blonde Fury," "Millionaire's Express," "Rage and Honor," "Sworn to Justice," "Rapid Fire," "Lady Dragon," and "Guardian Angel."
Her fight against Michelle Yeoh in "Yes Madame" is considered one of the best on screen fights of all time. And in fact, she ranked as the world-wide, #2 leading marital arts movie draw for over a period of ten years-- one of the few performers to achieve genuine Stardom in seven films.
In addition, Cynthia's TV appearances include "Hercules: The Legendary Journeys," opposite Kevin Sorbo, and "The Dukes of Hazzard Reunion." She is also the inspiration behind the video game character Sonya Blade in the game "Mortal Kombat" and is part of the creative team on the video game "The Untouchable 2." In addition, she is a voiceover actress, lending her vocals to the animated series "Eek the Cat."
Cynthia Rothrock is the real deal.
The "Queen of Martial Arts Films."
At only 5'3" she holds five Black Belts in various Far Eastern disciplines, including Northern Shaolin (classical Chinese), Eagle Claw (Chinese), and Tang Soo Do (Korean), Tae Kwon Do (Korean) and Wu Shu (Contemporary Chinese.) She has been inducted into the Kung-Fu Hall of Fame.
And there are so many ways to tap into on her rabid fan base.
(In addition to her signing at her table at the show, and photo ops, we can also negotiate "meet and greets, " panels and seminars (additional fees), and can arrange screenings of her movies, to make this a multi-faceted part of your convention.)
Rikki Simons

--

(Voice Actor- Invader Zim, Writer, Artist)
Rikki Simons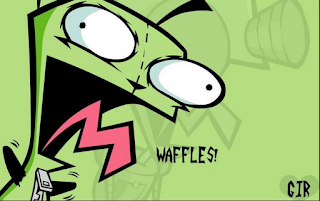 Rikki Simons--Voice Actor, writer, and artist, is now available for booking via Eva Ink Artist Group/ Pros & Cons Celebrity Bookings.

You know Rikki as the voice of the robot in a dog suit, GIR from Invader ZIM! And the pop culture scene does too, as fans embrace the chance to meet Rikki in person at his appearances worldwide.

As a writer he is known for the science fiction and fantasy novel Hitherto a Lion.

Original illustrated books and comics that he created with Tavisha-Wolfgarth-Simons include Super Information Hijinks: Reality Check!, Ranklechick and His Three Legged Cat, ShutterBox, and now The Trinkkits.

He is also a background painter in animation, most noted for his color design on Invader ZIM.

Programming Notes: Rikki is available for panels designed for your show, focusing on the art of voice acting, as well as his various writing projects.
Tim Colceri

--Babylon 5, Full Metal Jacket
This amazing actor and comedian, is well known for his fan favorite portrayal of Captain Jenkowsky in "Babylon 5: In the Beginning."

What a perfect guest for your shows sci-fi programming, as Tim can talk about his part in this iconic series. Maybe a "Behind the Scenes" panel? Yes!
In addition, Tim is is well known for his role in the 1987 Stanley Kubrick film "Full Metal Jacket," where he played the door gunner-- such a memorable part of that movie that it was inspiration for parody follows ups in "Tropic Thunder" and "Ain't War Hell?"
Just a few of Tim's other notable contributions include "Leprechaun 4: In Space," "Devils Inside," "The Rag Man," Sergeant Lewis on the television series "Weeds," and much more to list when promoting Tim Colceri for your event.
Veronica Taylor
--(Actress/Voiceover Actress--Pokemon, Yu-Gi-Oh, TMNT)
Veronica Taylor
Veronica Taylor is a classically trained actor who has performed in NYC and around the U.S. in contemporary and classical theatre.
Her voice has been a part of Saturday morning cartoons for some time now. She is probably best known for playing the roles of Ash and May on "Pokemon", April on "Teenage Mutant Ninja Turtles" and roles in "Cubix", "Dinosaur King", "Yu-Gi-Oh!", "Huntik", "Tai Chi Chasers", and more. She can be heard on PBS kids' "Word World" (Sheep), "Lunch Lab" (Mixiebot), and "Chuck Vanderchuck's 'something something' Explosion!" (Ramona).
Current projects include Sailor Pluto on "Sailor Moon", "Mofy" (Mofy, Mogu, Sora), "Astroblast" (Sputnik), and "Welcome to the Wayne (Spy from 8-i). Some anime favorites include Amelia on "Slayers", Yukino on "His and Hers Circumstances", all 7 Nana's on "Nana Seven of Seven", and Narue on "World of Narue", as well as many others.
She has done numerous voices for animation, video games, audiobooks, commercials, and documentaries.

Programming Notes: Veronica loves to be at her booth to sign autographs for fans. Inquire as well for various programming opportunities.
Megan Hollingshead

-- (Voice Actor)
Megan has voiced 100's of characters in animation and games. Her first role was Nurse Joy in the original English dub of Pokémon, followed quickly by Yu-Gi-Oh!'s original Mai Valentine.
She is also well known as Rangiku in Bleach, Shizune (and Ton Ton) in Naruto, Re-L in Ergo Proxy, Lenneth in Valkyrie Profile, and Viletta Nu in Code Geass. Other memorable characters include Adiane in Gurren Lagann, Hilda in Eureka 7, Sala in Mars Daybreak, Gloria in Daphne in the Brilliant Blue, Dr. Abigail Finn in Teenage Mutant Ninja Turtles, twins Mion (evil) and Shion (sweet) in When They Cry, Nemu in Bleach, Rose Marinade in Fighting Foodons, Kano in His and Hers Circumstances (watch the previews!) (oh wait -- no! I mean don't watch the previews!), Maharu and Ebi in Girls Bravo, Neneko in DearS, Captain Iruma in Ultraman Tiga, and Trixie in Ultimate Muscle. Other Pokémon roles include Cassidy, Whitney, and James' mother as well as Annie in Pokémon 5: Heroes and Diane in Pokémon 6: Jirachi Wish Maker. In addition to Lenneth and Guild Wars' smarty pants Glenna, Megan's game roles include Ylgr and Yune in the newly released Fire Emblem: Three Houses, Ada Wong in Resident Evil: Umbrella Chronicles, Shion Kasugai in Akiba's Space Trip: Undead and Undressed, Viola in Eternal Sonata, Edy Nelson in Valkyria Chronicles, Autarch Kayleth in Warhammer 40,000, The Third Kiki DeWynter in Saints Row, Five in Drakengard 3, and Battle Nun in Brutal Legend.
She currently has projects in the works for Cup of Tea, Bang Zoom!, and Funimation.
Jesse Blaze Snider

--

(Actor, Singer, Voice Actor, Host)
Actor, singer, TV host, comic book writer, voiceover talent— with Jesse you get it ALL— and then some— rolled into ONE guest!
Jesse's plethora of voiceover work and TV appearances span the worlds of animation, television, gaming, promos (Teenage Mutant Ninja Turtles), and commercials!
As a skilled vocalist & voice actor, Jesse developed early on the ability to dramatically change vocal texture and convincingly portray many regional & international accents. Maybe inheriting some of that talent from his father, Dee Snider of Twisted Sister fame.

(Fun Fact: Jesse did EIGHT characters for the Final Fantasy game!)
Pretty much everyone knows Jesse's narrator voice from his long stints with "Food Paradise" (Travel Channel) and let's throw in a little history to boot, "Trashopolis" and the wildly popular "Museum Secrets" both on Smithsonian Channel, as well as his in person stints on "Haunted Live, for the Travel Channel, "MTV2 Rock," "MTV2 Rock Countdown," and as the host for the Spike TV Video Game Awards. His reality TV appearances-- some alongside his famous family-- include "Growing up Twisted," "Celebrity Wife Swap," "MTV's Ultra Sound," "Meet the Sniders," and performing live for millions on the reality singing competition, "Rock the Cradle," where he stole the show.
In the world of animation his voiceover work includes the part of Judge Sydney on "Judge Dredd: Super Fiend," Dane and Eric in "Burma Rising," among others. And in the world of video games he's portrayed multiple characters in "Final Fantasy XIV," and "Call of Duty: Advanced Warfare."
But you want someone with Comic Book credits too? You go it!
Jesse has written for almost every major and indy publisher, Marvel, DC, Disney/Pixar, The Muppets,
Image Comics, Heavy Metal,
Chaos Comics, the list goes on.
Some of Jesse's writing can be found in an forthcoming "Batman: April Fool's Special," "Dead Romeo GN," "Disney*Pixar's Toy Story," "Muppet Snow White," "Hulk: Let the Battle Begin," "Deadpool: Fun with Ninjas," "Black Light District: 6issues ONE-SHOT," "CBGB: OMFUG," "Dee Snider's Strangeland: Seven Sins," "Evil Ernie: Origin of Evil," "Food Fight" with Steve Kurth in "Soft Wood #1" and his creator owned "King of Kings."
Chris Parsons-

-

(Actor, 4-LOM from "Star Wars")
Chris Parsons
Born in London in 1960, Chris Parsons would soon find himself in the "galaxy far, far, away" via his involvement in the Star Wars saga of the late 1970's and early 1980's!
His various work in the trilogy includes:
Star Wars: Episode V - Empire Strikes Back (1980)
Star Wars: Episode VI - Return of the Jedi (1983) in which he portrayed: C-3PO (double), K-3PO, E-3PO, R-3PO, a Death Star Droid, a Stormtrooper, Snowtrooper, a Hoth Rebel soldier and a Hoth Snow Speeder pilot.
All making his stories from the set varied and insightful.
Chris has also been in various other Television and film productions including: Raiders Of The Lost Ark, Quadrophenia, Superman ll, Yentl, The Shining and James Bond.
But of all his various work, the one most resonating with Star Wars fans is his portrayal of 4-LOM, the Bounty Hunter.
4-LOM is remembered as the cold, calculating and ambitious LOM-series protocol droid, resembling the insectoid species he was designed to serve, who overrode his programming and became an intergalactic thief and later a bounty hunter, often working with Grand Findsman Zuckuss.
Following the Battle of Hoth, 4-LOM was hired by Darth Vader to capture Han Solo, Captain of the Millennium Falcon and hero of the Rebel Alliance. For this, the mechanical teamed up fellow Bounty Hunters Boba Fett, Dengar, Bossk, and IG-88.
Chris Parson's unique part in the Star Wars trilogy allowed him to give life to this unique creature, spawning

L

egos, trading cards, toys and more!
Programming Notes: Chris is happy to take part in panels talking about his behind the scenes experiences on the Star Wars set, alone or with other cast members. For Booking information, contact Renee at Pros & Cons Celebrity Booking: evaink@aol.com
Butch Patrick
-- Actor/ Munster Car Display
Butch Patrick
Butch Patrick is synonymous with pop-culture and cars. After all, he is best known for his character role as Eddie Munster on The Munsters. Butch continues the Munster's legacy touring with the Munster Koach and Dragula Tribute Cars.
Remember that The Munsters is a unique and multi-generational American classic show. Butch's presence enhances any gathering. Promoters gain media attention by his visits; and fans get to see the awesome display and create a cherished memory.
Butch has a huge following of fans worldwide and his fan base alone is a great promotional source.
Butch tours with his Munster Koach and Dracula Tribute Cars, original 1964 Barris/Von Dutch Chain Link Schwinn Stingray Bike, and other Munster props to include Munster Go-Cart, Baseball Bat, Wolf Wolf, Miniature Spot, and Street Signs All Inclusive Display.
(Butch is available with or without the Munster cars, but what a great display! Contact me for more info! )
HAMID THOMPSON-

-
(BLUE from "Jurassic World

")
Hamid Thompson
"Jurassic World" is one of the top grossing movies of all time. The reason why is simple: DINOSAURS. Meet Hamid Thompson, actor, dancer, stunt person. Also known as the Rator BLUE from the blockbuster film!

Originally from Ann Arbor Michigan, Hamid Thompson IS Blue in the movie, all the interactions with the main actors, and the creature that drove much of the story, was motion captured with Hamid acting the part!

In case you haven't seen Golem in "Lord of the Rings," or Hamid's performance in "Jurassic World," Motion-Capture Acting (or MoCap), is a type of acting in which an actor wears markers or sensors on a skintight bodysuit or directly on the skin. Several cameras from different angles record the actor's movements.

Hamid Thompson's other credits include "Jack Reacher: Never Go Back" (2016), "Kenau" (2016) and "Chi-Rag" (2015), among others.

Now is a great opportunity to book Hamid Thompson into your convention or event and hear about his world.

Programming Notes: New to any conventions, anywhere, not only will Hamid be available for signings and photo ops, but he can also do workshops and even panels about working on one of the biggest movies of recent times, "Jurassic World!"
Robert Trebor
-- (Actor, Writer--Her

cules, Xena

)

Renowned and versatile Actor, Robert Trebor is known worldwide for his pivotal role as Salmoneus on the "Hercules: The Legendary Journeys" and "Xena: Warrior Princess" television series.
H

e is equally as well know for his parts in feature films such as "Purple Rose of Cairo," "52 Pick Up," "Universal Soldier," "Making Mr. Right," "The Shadow," "My Demon Lover," "Jim

in

y Glick in Lalawood," (among MUCH more) and no doubt for his upcoming role in the m

uch anticipated

Coen Brother's movie "Hail, Caesar!"

One of his most mesmerizing roles was the role of David Berkowitz in "Out of the Darkness

,

" a haunting portrayal that

still resonates today.



On television, in addition to "Herucles" and "Xena," Mr. Trebor has appeared on the small screen in "Miami Vice," "Murphy Brown," "Empty Nest," "Young Indiana Jones Chronicles," "Baywatch," "Wedding Daze," "Missing Persons," and Boomtown."
A writer, some of Mr. Trebor's credits include stories for the "Xena" comic book for Topps Coomics, as well as "Dear Salmoneus: A Guide to Love and Money," from Eva Ink Publishing , in add

ition to an upcoming autobiography.
Program Notes:
A versatile actor and comedian, Robert Trebor is available for shows in 2016 to fit around his various filming schedules. He is open to group panels or solo panels. We can also discuss acting classes or critiques available to a limited number of shows.
For more information contact Renee at: evaink@aol.com